WELCOME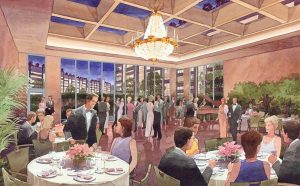 The purpose of architectural renderings are to provide imagery for the design profession that portray a project's character and detail as it will be seen in its context as ultimately constructed. Here you will see examples of some illustrations and architectural renderings in watercolor, marker, pen and ink, and combined media that have fulfilled this goal for my clients, communicating design ideas and intent to their clients, to owners, to committees, and to the general public. They can also be very effective tools in a marketing campaign to generate income for investment. 
By working closely with you and your design, development, or marketing team, I collaborate to develop the image that will promote the best understanding of your design and accurately portray it within its context from the most effective point of view. Often design ideas can be developed within the framework of the rendering process. Form and detail can be assessed in the perspective view and revised based on your design decisions as necessary. I provide rough pencil preliminaries first, to refine the view angle for the project, and then revise those as required to finally arrive at the image you need. Your illustration will be approved by you at every step. I like to reserve some artistic license for producing the final art, but my preliminaries are comprehensive and always provide the entourage, as it will basically appear in the final art, for you to approve. Your illustration will be true to the input you have provided me.
THE STUDIO
My studio is staffed by one artist, which means that the architectural renderings produced here are consistent in quality and that individual attention is paid to each commission. Your illustration will be approved by you at every step, with pencil preliminaries presented to you and revised per your comment and input. By fulfilling these goals, I have built relationships with my architectural clients that have lasted for years. I look forward to building such a relationship with your firm.
This studio is devoted to traditional methods of architectural rendering. Working closely with you the views are developed and executed using these methods. Each work is a collaboration of the architect and illustrator to express the design intent to its truest possibilities, while drawing upon my fascination with illustration to arrive at an involving and convincing image. The emotional involvement is evident in the sensitivity of each work whether full traditional rendering format, vignette or sketch.
NEWS
View my profile on